i'm back from my scrapping hiatus and its awesome to still get encouraging comments on my posts. so blessed (:
so anyway, shortly after the end of exams, i saw an appeal for cards by Art Republic (a scrapbooking store in Novena Sq) on facebook and decided what could be better than a combination of scrapping and a meaningful cause. just abit of background, i think Art Republic's doing some initiative for children who have recovered from their cancer treatment. so the cards are for these children. you can make one card or you can make a few. once you're done, drop the cards off at Art Republic, deadline's 11 June 2011 if you want to help.
i managed to finish two yesterday night. the completed ones are for boys. gonna do another 3 more by this thursday night for girls. so glad that my time could be spent in this manner, to scrap and bless someone out there. i'm sure all of you scrappers feel the same way yeah? (: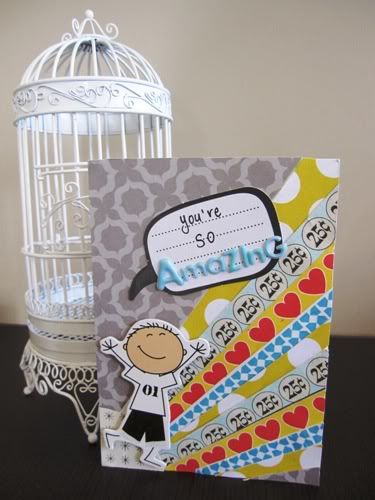 God bless these strong and brave children! will be back soon with more cards!